Hi Putz!
I took advantage of 4th of July weekend by going to San Diego.
Unlike Ben and Jaguar, I fully embrace millennial selfie culture.
See, my friend Ryan from high school is there for the summer, so I thought I'd go visit him and see what all the SoCal hype is about. It's a pretty neat area. Beaches, deserts, zoos, Disneyland. I tried to get the full experience.
Easily the coolest thing I did in San Diego was hike. The terrain there is so awesome! We went on a trail I heard about from someone on my team at Google
who used to live in San Diego:
"Oh, you should totally do the Three Sisters hike! Uh, or maybe not. People die on it kind of often? Be careful, I guess."
Looks super cool! Totally worth maybe dying for.
Sounded like a rave review to me! Turns out hikers die/get injured there pretty often. But it has 4.5 stars on Yelp, so how bad could it be?
After arming ourselves with advice from the internet
(tl;dr bring lots of water and don't bring your dog), we set off to Cleveland National Forest. The landscape on the drive over was pretty cool.
I kept picturing scenes from Blood Meridian happening around me.
Shout out to putz 2013 book club, woop woop.
Sharing the road with some bikers.


Aaaand then we got to the hike! No one else was there, it was totally empty. I guess most people don't start this hike at 1 PM when it's already 90˚?
The start of the hike was a wide, flat dirt road. I was like, "What gives? I thought this was supposed to be hard. Maybe I'm just a really awesome hiker."
But eventually it turns into a typical, narrow hiking trail.
Damn.
So it's a normal trail for a while, and then, BAM. Suddenly you are on what feels like a 60 degree incline, covered in super slippery dust. I didn't take many pictures of this because I was too busy trying not to fall.
It's hard to tell, but TRUST ME this is really steep.
Anyway, after hiking (read: tripping) down the mountain face (and becoming sufficiently caked in dirt), we got below the tree line.
This part of the hike was the most fun. You kinda just climb up and down giant boulders and short, rocky cliffs.
Then we found water. That was pretty exciting, because it meant the waterfalls weren't too far.
For the rest of the hike, you follow the tiny stream back up the mountainside until you hit the waterfalls. After an hour or so of boulder climbin', Ryan goes "Look! The waterfalls!"
Nope, not kidding. The drought is real. The totally awesome "waterfalls" were reduced to these faint, green slime trails.
This is not a waterfall.
So sad.
Well. The photos above are the first two sisters, but we couldn't see the third yet. We figured we might as well hike up and see if the last one was any better.
And it was! The third sister was not a total disappointment! It actually involved some falling water. Like, not a lot of water; it was like an EC shower on the lowest pressure setting. But hey, better than nothing.
The water fell into this little pond-like alcove, which was totally a paradise. After a few hours of hiking in hot weather, being in the shade was amazing. Swimming in the pond was also great.
You can see the trail we hiked down in the distance.
The third waterfall was so great I forgot to take a picture of it, but here's someone else's photo.
Definitely the least disappointing waterfall.
Good stuff! If you're ever in the area, definitely check out Cleveland National Forest (especially if there isn't a drought anymore!)
One thing I noticed while hiking, and also while walking around San Diego's suburbs, is that desert trees are super funky.
I kept thinking, "These are straight out of a Dr. Seuss book."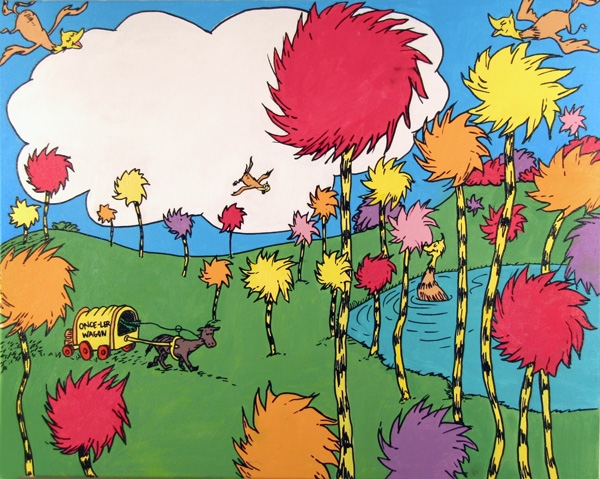 And it turns out they are! Dr. Seuss spent the second half of his life in La Jolla (a coastal suburb of San Diego), and
based the animals and trees
in his books on what was in the area.
Pretty cool, huh? Well, that's all I got for now. Hope you guys had an awesome 4th of July too!